Product Catalog - Incise Drapes
Incise drapes are thin plastic drapes with an adhesive coating on one side. The drape is applied to the surgical site and the incision made through the drape. The drape provides a sterile field and the adhesive prevents skin microbes from entering the incision. Adhesives may be impregnated with antimicrobial solution.
Vet. Surgical Resources offers both 3M incise drapes and MCD incise drapes in several sizes with and without antimicrobial solution. 3M antimicrobial incise drapes are marketed under the Ioban 2™ brand and MCD antimicrobial incise drapes are marketed under the ACTI-Gard® brand. Plain 3M drapes are marketed under the Steri-Drape™ brand. Instructions for incise drape use are included below.
MCD
3M
Overall Area
Adhesive Area

ACTI

-Gard
Steri-Drape
3M Number
Ioban
3M Number
34" X 34"
34" X 24"
6106
3105
1051
3106
6650EZ
24" X 14"
14" X 14"
6112
3110
1040
3112
6640EZ
34" X 18"
24" X 18"
6116
3115
1050
3116
6650EZ
8" X 8"
4" X 8"
6131
6635
Instructions for incise drape use
These instructions are for 3M Ioban 2 Incise Drapes1. Use of the AD-HERE line of incise drapes is similar and instructions are included with packaging
Disinfect the operative site according to the health care facility policy and allow the prepped skin to dry. Hold the drape with the printing on the handle facing up, and separate the printed handle from the white handle. Position hands at the outer edges of the handles for best results.
Printed handle is the Ioban drape side.
White handle is the liner side.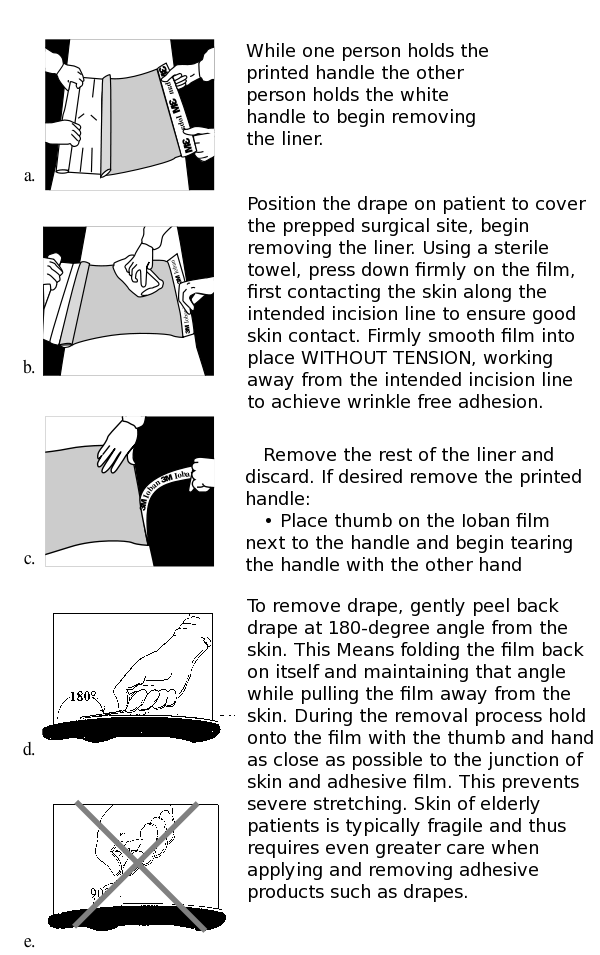 1. 3M Website, Resources Available locally here
Ioban and Steri-Drape are trademarks of 3M Healthcare
ACTI-Gard are registered trademarks of Medical Concepts Development